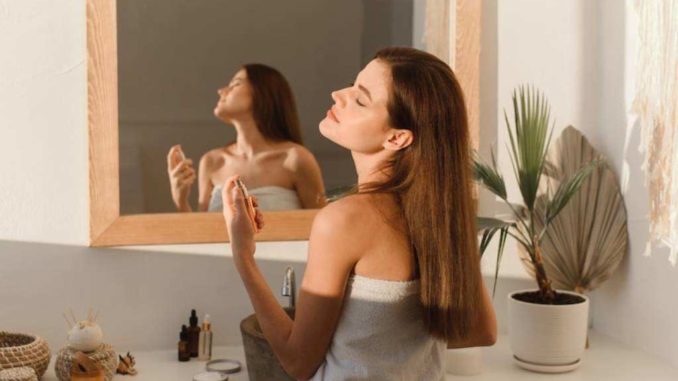 LifeSurance.info – Face mist is a care product that can hydrate the skin and make it moisturized instantly. What are the other benefits of this skincare product and when is the right time to use it? Check out the full explanation below.
What is Face Mist?
Face Mist is a skincare product that is in liquid form and is sprayed onto the face area. This product is sold in various variants with different compositions and benefits, according to the needs of the skin. Face mist itself sometimes has the same composition and function as skincare, for example reducing excess oil on the face, soothing the skin, and containing anti-aging properties.
Benefits of Face Mist for Facial Skin
The following are various benefits that you can get when using this spray-shaped care product, including:
1. Refreshing skin
This is the main benefit of face mist. Spraying it on the face can make the skin feel fresher. If you feel your skin feels dry and dull when you are on the move, you can spray it right away.
2. Instantly hydrates the skin
Face mist products in general can indeed hydrate the skin. But choose a product that does have a hydration function, especially for those of you who have dry skin.
3. Locks in skin moisture
One way to lock in skin moisture is to use a face mist between skincare or make-up products. For example, you can spray it between moisturizer and sunscreen or between primer and foundation. As a result, the skin will look more dewy, glowing, and healthy.
4. Soothes sensitive skin
For those of you who have sensitive skin, this skincare product can help reduce redness, soothe irritation, and provide plenty of moisture for the skin. But make sure you choose the right product, with ingredients that are safe for sensitive skin. Avoid products that contain alcohol and perfume. Choose a face mist with gentle ingredients such as aloe vera which is known to have natural anti-inflammatory properties.
5. Absorb excess oil on the face
So far, maybe loose powder and face oil paper are mostly used to absorb excess oil on the face. In fact, face mist can also, you know! In addition to adding moisture, this product contains natural minerals such as silica which can absorb oil and provide moisture to facial skin. In addition, the niacinamide content in it works as a humectant, thereby helping to control oil production without stripping the moisture away.
6. Controlling breakouts on the face
Owners of acne-prone facial skin can take advantage of this one skincare product. A clarifying mist type face mist with a mild exfoliator is suitable for those of you who have acne-prone skin. Other ingredients that can treat acne-prone skin are BHA and willow bark water which are effective for deep cleansing of skin pores and preventing breakouts. If your skin is suitable, this product can be used as a substitute for acne medication for the skin.
7. Increase the absorption of skincare products.
This facial moisturizer can help increase the absorption of the ingredients in the skincare products you use. Before applying skincare, moisten the skin first with a face mist. Skin conditions that are still damp and slightly wet will make skincare products absorbed deeper and faster into the surface of the skin, so you can feel the benefits more.
8. Prepare the skin before make-up
When you want to use make-up but don't have or run out of primer, just use a face mist. One of the benefits of face mist is that it makes the skin softer and moister, so that make-up blends perfectly. There are even some products whose main function is as a primer for the face.
9. Unite the foundation more perfectly
In order to get the perfect make-up, you have to make sure the foundation can blend with the facial skin. Face mist can provide moisture to the skin so that foundation can be applied more easily, giving a smooth and not cakey finish.
10. As a makeup setting
After you finish doing your make-up, don't forget to apply a setting spray so that the makeup can last a long time. Certain face mist products have this function, apart from moisturizing and refreshing the skin. This treatment product also won't clog skin pores or cause skin irritation, so your makeup will look flawless all day long.
11. Make makeup look more natural
Who doesn't want a natural makeup look? It turns out that using loose powder or compact powder as finishing is not enough. Spray face mist to lock all the makeup on the face so that the makeup will look more natural, not cakey, and of course not easy to fade.
When is the Right Time to Use Face Mist?
One of the questions that are often asked is when to use face mist. Of course, you can use it any time. But if you use it at the following times, the benefits will be more pronounced.
Wake up. The freshness of this product will wake you up with soft and glowing skin.
After using toner. Face mist will add moisture to the skin so that skincare nutrients can be absorbed more perfectly.
After exercise. This product can be used as a substitute for facial soap to make you refreshed after working out at the gym.
Before sleeping. The face mist ensures that your skin stays moisturized while you sleep. Use a face mist 20 minutes before bed so that it absorbs into the skin and doesn't stick to your pillow.
This skincare product does have many benefits besides refreshing and hydrating the skin. Make sure you buy products that suit your skin's needs and use them every time you move, both indoors and outdoors.